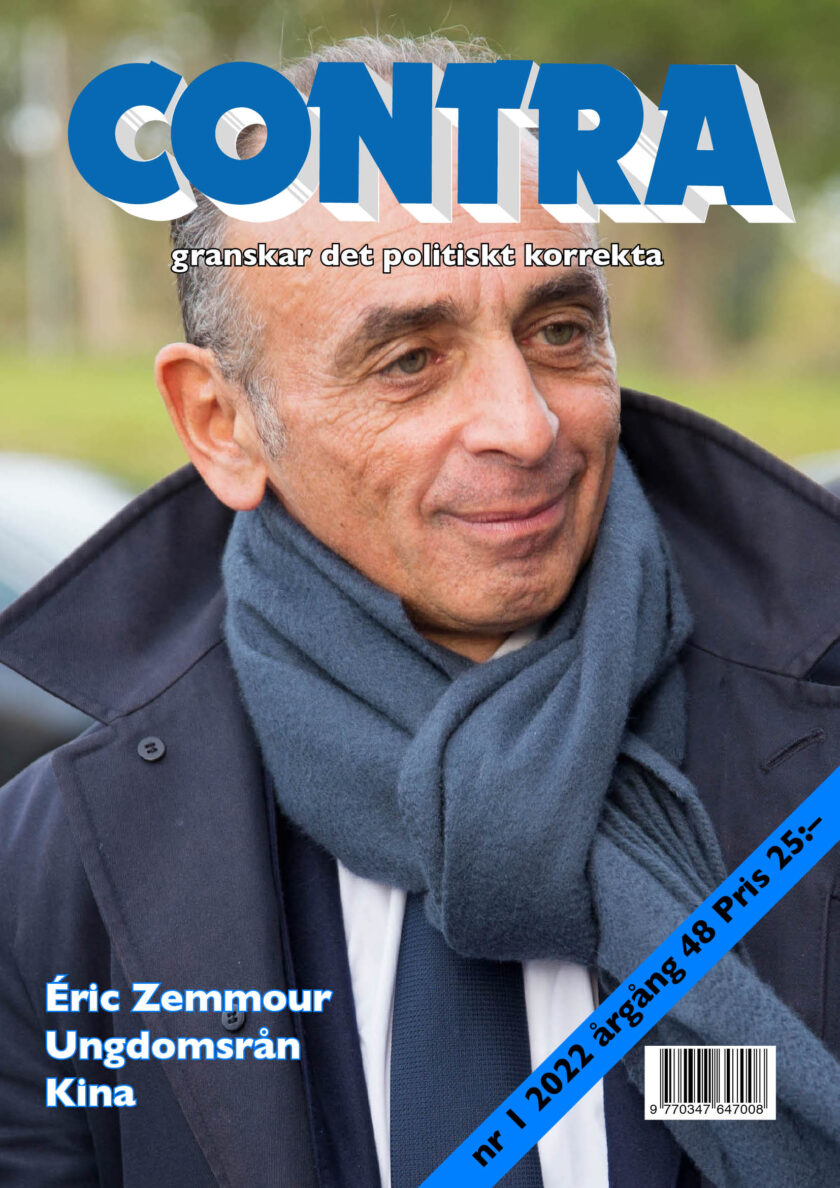 Leader: The madness of the electricity market is no market
Prices of eletricity are no more decided by market forces but by politicians. Regulations have destroyed the last remnants of market forces in the energy market.
Éric Zemmour interviewed by Andrew Billen
There is a new name in French politics: Éric Zemmour. He has a backgriound as a journalist and a TV anchorman. He has written in the most renowned French newspaper, Le Figaro. Zemmour has a winning personality and has made his breakthrough when talking about immigration and integration. In spite of his (and his wife's) Jewish background he has been called anti-semite by left wing extremists. Now he is one of the candidates in the French presidential election in April.
Youth robberies by Per Ossmer
The Swedish National Council for Crime Prevention has recently published a report on youth robberies. Per Ossmer has read it.
IPCC's report is political – not scientific by C G Holm
The UN climate panel IPCC is a dubious institution which could be questioned on good grounds. IPCC is far from the impartial scientific organ that would be expected of a UN institution. Originally IPCC was formed by climate alarmists and they still control the institution.
The weak leadership of the West by Britt-Louise Hoberg
The world of 2021 was signified by problems: the pandemics. Climate change, the economic development, new technology and science as well as political conflicts.
Alain Elkann interviews Yu Jie on the development in China
Yu Jie is specialist on China at Chatham House in London. She is interviewed by Alain Elkann. It could be noted that Yu Jie has both her parents still living in China, but considering this fact the interview gives a lot oof information on the development in China.
The efforts of Red China to gain world dominace by Tommy Hansson
The Chinese Communist Party works in order to gain influence all over the world. Democracy and human rights are in no way obstacles for the efforts of Chinese rulers' ambitions to reach world dominance. And Chinese Communists under president Xi Jinping works on a wide front to gain influence with politicians, business leaders and intellectuals to achieve this.
Compulsory vaccinations forbidden by the Swedish constitution by Géza Molnár
You might see it arise also in Sweden, demands for mandatory vaccination, like the one now introduced in Austria. For opponents of mandatory vaccination it should be noted that the Swedish constituion forbids this (Regeringsformen Chapter 2, section 6). Demands will certainly arrive in Sweden too, but as it is forbidden in the Swedish constitution, no politician has forwarded the demand yet.
Karl-Olov Arnstberg: The effects (book review)
In the previous issue of Contra we presented two books by Karl-Olov Arnstberg on PC Women and PC men respectively. In a third book he gives mor general views on the "PC religion", without linking the text to PC individuals. He links the new "religion" to feminism and efforts to introduce regulations that demands certain political views.
Henrik Jönsson: Libertarian Defense (book review)
Well-known YouTube-entrepreneur Henrik Jönsson gives a weekly political comment on YouTube every Satúrday Morning at 08:00 a.m (Swedish time). He has also made a lot of other TV-shows distributed on YouTube where he interviews leading politicians. He has also toured the country to talk about his ideas. Now he has published a book.