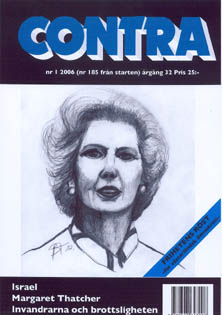 The Wall that Saves Lives
– Tommy Hansson in Israel
–Arafat blew it. That was the blunt summary of David Earle, active in the Middle East Peace Initiative, contemplating the present situation in Israel. Earle was thinking of PLO leader Yassir Arafat and his repudiating attitude towards the prospective unique agreement between Israel's Prime Minister Ehud Barak and President Bill Clinton at Camp David in the year 2000. The agreement later turned into the present violent situation.
Contra publisher Tommy Hansson visited Israel in November 2005 as participant in a symposium arranged by the European section of the Middle East Peace Initiative. He is reporting his impressions in the new issue of Contra magazine.
Islamist terror with a Dutch link
by Tommy Hansson
During the past two years two prominent Dutchmen have been murdered by political extremists. First the gay right wing politician Pim Fortuyn and later the controversial film maker Theo van Gogh. But there are a lot more links between islamist terror and the Netherlands.
Immigrants and Crime
by C G Holm
Several dubious groups are blaming immigrants for the bulk of crime in Sweden. Leading media and politicians, however, usually deny that immigrants are responsible for a significant part of crimes committed in Sweden.
When the Swedish National Council for Crime Prevention (a Government Body) for the first time in twelve years made a study, the reaction was imminent. According to media the study should never have been done, as it supported prejudice. But the study didn't support prejudice, It only showed facts. Facts showed that crime rates among immigrants was approximately twice the level of native Swedes (adjusted for differences in sex, age, income, education and social class). The new questions should be: Why is it so? This has not been discussed by the Council. Mauricio Rojas, himself an immigrant from Chile, claimed that the main reason for differences in crime rates was differences in cultural background. This he claimed in an article in the largest selling quality nespaper in Sweden, Dagens Nyheter. But the political establishment immediately attacked Mr Rojas in order to silent an important question in a democratic society.
Contra editor C G Holm analyzes the report of the Swedish National Council for Crime Prevention and asks what type of cultural influence affects high crime rates in certain groups. An example might be a view on private property that is foreign to Swedish traditions among Chilean Communists – a high crime rate group. Another group with high crime rates are people originating from West Asia. But there you do not find the same overrepresentation in theft, but in violent crimes like murder, manslaughter, rape and assault. Likely caused by other values on human life and corporate integrity for men and women. On the other side, there are extremely low crime rates among immigrants from East Asia, where buddhist respect for life and cultural respect for entrepreneurship are held in high esteem. Crime rates are lower than among native Swedes with immigrants from East Asia.
The Vision of Margaret Thatcher saved Europe
Lady Margaret Thatcher, British Prime Minster between 1979 and 1990 is not only one of the heroes of the Cold War. After eleven years as Prime Minister and 15 years as Chairman of the Tory Party she is one of the most succesful British statesmen ever, comparable to Winston Churchill and Benjamin Disraeli. Thatcher combined a strong personality with an ideological vision, which turned into a boost not only for her own native Britain, but for the entire Western culture.
Flat tax is gaining ground
by Fredrik Runebert
Flat Tax is ganing ground all around the world. The principle is simple. All pay the same percentage in income tax, irrespective of their income. Nine East European countries, formerly victims under the Communist yoke, have adopted flat tax rate systems and their growth rates have been impressive – boosting incentives for hard work and investments.
Ivar Lo Johansson
Ivar Lo-Johansson (1901-90) was one of the most well-known "proletarian authors" in Sweden. He was born on the Södertörn peninsula south of Stockholm and early engaged in the situatiuon of Sweddish farm workers. But what he wrote on farm workers seem to be basically false.