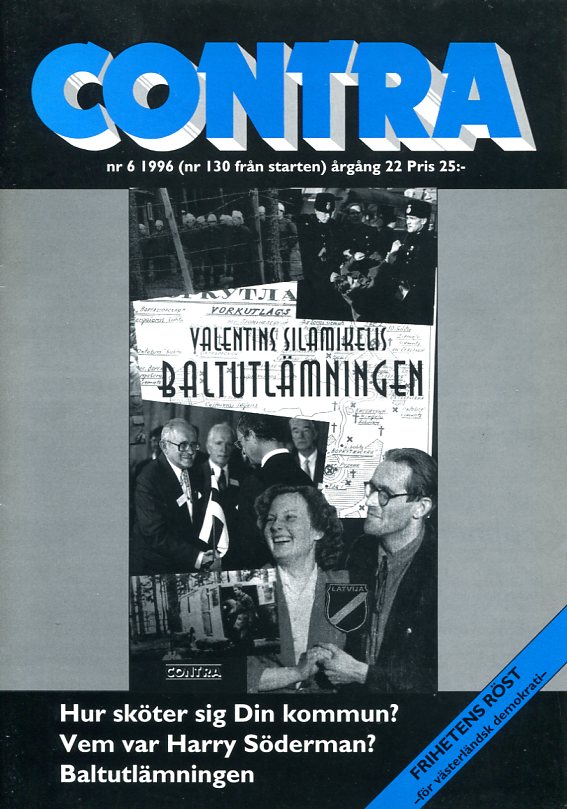 Local governemnt efficiency – or inefficiency
What about efficiency in local government? Contra presents tables on all but 16 of the local governments in Sweden. How do they manage their finances and their services to the community? Tables show net financial assets (if large, the citizens have been overtaxed) and net financial debt, as well as key figures for efficiency in public shools, children day care centers, costs for assistance to elderly people, costs for welfare (solely a local government responsibility in Sweden) and the average tax rate.
The differences between local governments, even those with similar structures as regards population and geography, are stunning.

On Harry Söderman – policeman and adventurer
An article on Harry Söderman, one of Sweden's leading criminal investigators specialized in technical analysis. He was also a leading character in the international police community and participated in the arming of a Danish anti-communist resistance movement, created to be activated if Denmark were occupied by Communist forces. Mr Söderman died 40 years ago, in a way that could be expected by an international criminal investigator – under "suspicious circumstances" in a bar in Tanger in Northern Africa.
Deported to 45 years of Communist hell
Valentins Silamikelis succeeded in fleeing to Sweden from his native Latvia in May 1945, during the very last days of World War II. He went to the Baltic Island of Gotland with a military German vessel that succeeded to get away ahead of the Soviet advance in Latvia. In Sweden he – and his compatriots – was put into camp and in January 1946 no less than 153 Latvians, Estonians and Lithuanians that had arrived as "military" were sent back to Latvia, which now was occupied by the Soviet Union. At least 4 of the returnees were executed and some forty were sentenced to Gulag. One of these was Mr Silamikelis. Mr Silamikelis succeeded in surviving Gulag and later became an architect in Latvia, although he has all through his career been regarded as third class citizen, because of his "Swedish" background. In 1991 Latvia regained its independence and Mr Silamikelis was able to get his diaries and photographs back. These were left to an unknown Swedish policeman the very morning when Mr Silamikelis was deported and later forwarded to his relatives in America. Mr Silamikelis himself had no idea of the whereabouts of this material until in 1991, when he started to prepare a book, which now has been published by Contra.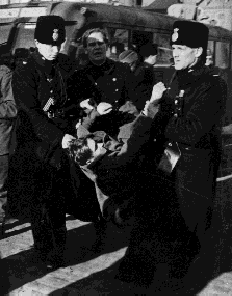 The picture is from January 25 1946. Mr Silamikelis has tried to commit suicide by using broken glass from the buses that were used to transport the Baltic refugees to the Swedish port of Trelleborg (another man, Peteris Vabulis, succeeded in committing suicide during the transport), and he is carried away by Swedish policemen. After being taken cared of by Swedish physicians he was carried aboard the freighter Beloostrov and was deported together with 152 other Balts (and several hundred former German soldiers) to the USSR, to spend 45 years in a Communist hell.
Jerzy Popieluszko – one of the heroes of the Cold War
The heroes of the Cold War. On the Polish catholic priest Jerzy Popieluszko.
New ways of working?
Sten Dybeck, former deputy chairman of New Democracy, a populist political party having 25 seats in the Swedish parliament 1991-1994, discusses the need for more flexible working hours in modern society. His basic idea is the need of fewer working hours for mothers and people approaching retirement. This could be combined with extended working hours for people that wants to, why not have a system of four hour blocks, instead of a fixed eight hour working day?
On opression in Communist China
On a new Amnesty International report on opression in Communist China.
Presidents on trial – from South Korea
A comment on the trials against two former presidents in South Korea.