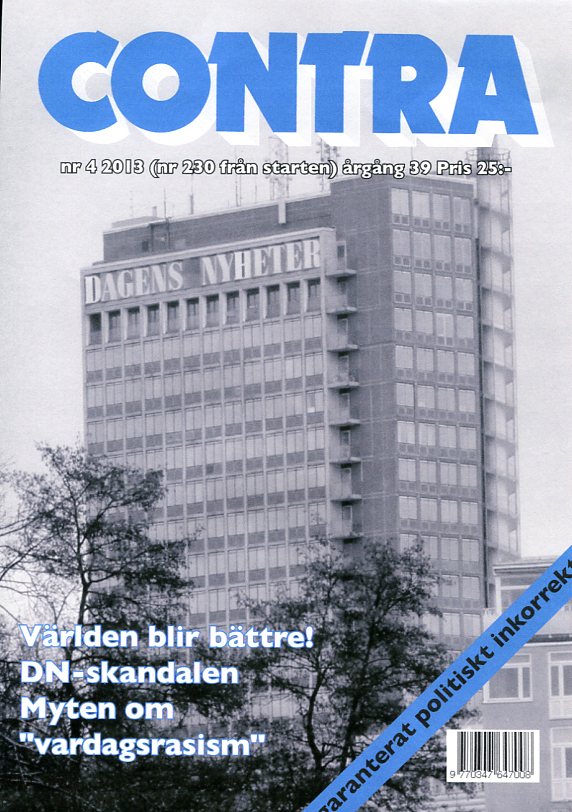 Media scandals are more common
by C G Holm
Leading Swedish media have turned from news to campaigns. In this issue of Contra we discuss the leading former quality newspaper Dagens Nyheter and its recent campaigns based on biased newswork and refusal to open up for corrections and other views when they are proven wrong. After more than a hundred years of qualified journalism readers assume that what they read in papers like Dagens Nyheter is true and balanced, not parts of political campaigns. This article discuss one of the more questionable campaigns of Dagens Nyheter, criticising one of the best Swedish care companies, Carema, criticism that was unfounded and false, but part in a campaign against corporate participation in the delivery of welfare services.
Lech Walesa interviewed by Geoffrey Macnab
Lech Walesa visited the United Kingdom in connection with the release of an Andrzej Wajda film on his life. Geoffrey Macnab made the interview where Mr Walesa sees himself as a link in the long chain of Polish history.
The World gets better
by Filip Björner
The World gets better. People have more food, beter education and better social conditions. In addition violence is declining in the long run. Much of this has been achieved thanks to globalization and liberal principles in the economy.
A better school – who is in charge?
by C G Holm
According to opinion surveys the Swedish people is disconent with the performance of the schools in the country. Especially schools run by local governments. That has been the case for a long time. Dissatisfied people have taken their own measures and started charter schools or at least put their children into such schools.
The myth of Swedish "everyday racism"
by Fredrik Runebert
Some claim that there is "structural racism" in Sweden. They mean that immigrants are discriminated in all segments of society. Discrimination is assumed to cause high unemployment, lower representation and higher dependence on welfare, lower educational levels and segregation in housing. The parallells to feminist assumptions of systematic oppression of women by men are obvious. But as with the feminist accusations, these accusations are based on vague assumptions that one group harasses another. Without any kind of proof. But what is the truth? Is the Swede an "everyday racist"?
Helle Klein – socialist and Israel hater in clergyman's gown
by Tommy Hansson
Helle Klein leave few unmoved by her hateful and single tracked art of debate and rhetoric. Her obvious influence in the Church of Sweden is a measurement of the magnitude of the decline within the Church of Sweden, once an honourable and venerable institution for the entire people.
Persecution of Christians in the Middle East turns worse
by Géza Molnár
Christians have lived in the Middle East for 2000 years. A hundred years ago 20 per cent of the population was Christian. The percentage has dropped rapidly due to persecution of the Christian minority. And the pressure has increased during the last years. In the Syrian city of Homs there were 80 000 Christians just a few years ago. The last Christian was muredered in October 2012, after the opposition conquest of the city. The development is similar in other countries in the Middle East. It is time to raise a voice of protest.