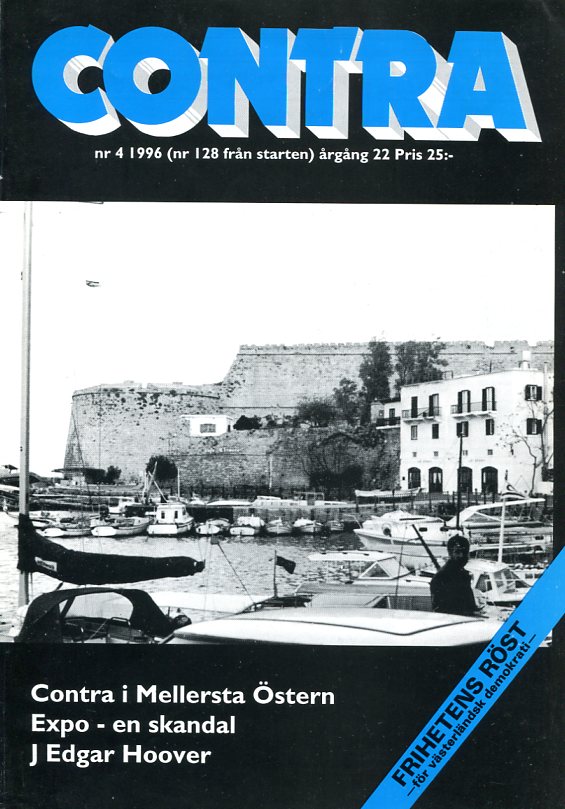 Sleazy smear magazine gains prominent support
Under the "banner" of anti-fascism a disgusting product of bad journalism has achieved considerable success in the Swedish media during the past spring and summer. The magazine "Expo" has been supported by several prominent Swedes, but is actually a sleazy product linked to militant anarchist extremists. The magazine claims that it is owned by a certain "Hill Foundation". However no such foundation has been registered with the appropriate authorities and either the foundation does not exist or its representatives are breaking the law.
It is certain that some of the contributors are known as criminals. But the magazine prefers not to give any real names of its contributors and editors (with the exception of the publisher responsible under Swedish press law). The member of the editorial board Tobias Hübinette has at least five sentences by Uppsala district court (Uppsala is the fourth largest city in Sweden). His crimes includes illegal threats, sabotage and harassment. When he destroyed the cable TV system in a student area in Uppsala he claimed that TV was a tool of capitalism and that students should not look at TV at all. He has participated in political burglary and attacked banks (seen as capitalist tools). He has also participated in illegal threats against political opponents.
He has links with AFA, an anarchist group claiming to be anti-fascist and closely surveilled by the Swedish security police.
Left-wing bias in cultural grants
Culture is promoted by government subsidies and actually a lot of cultural events are made possible only by public grants. And these grants are given with a very clear left-wing bias. Contra editor Tommy Hansson, who is a city councillor and member of the Local Government Board on Culture and Education in Södertälje discusses this problem. He concludes, from a statement by the Minister of Culture emphasizing "cultural quality", that both public libraries and public theatres will offer a small elitist (and often wealthy) minority what they wish, and at the same time popular plays and books will not be distributed, as they are not regarded as "good culture".
The way to cut back government expenditure
The former publisher of the anti-communist magazine "Argument", Svante Hjertstrand, discusses the methods used for cutting back government expenditure. In too many cases a cut below a certain level removes the functionability of an entire program. In those cases yous should either make no cuts at all or cut back the program by 100 percent.
The heroes of the Cold War
On FBI director J. Edgar Hoover.
Contra correspondent Bertil Wedin writes from the Middle East
Contra's new correspondent in the Middle East, based on Cyprus, Bertil Wedin, gives a background on his journalistic activities. He has a large network of contacts in Sweden, the UK and on Cyprus. In 1976 he was the victim of a KGB plot in Stockholm and had to move to the UK, where he later also was attacked by the KGB in a smear campaign. The responsible KGB agent was expelled from the UK as a result of his campaigns against Wedin.