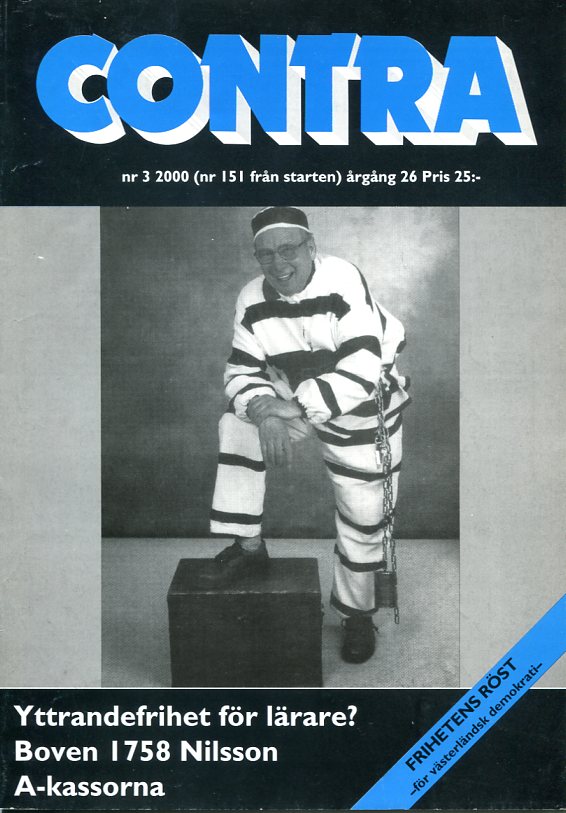 Tough times for teacher writing an essay
The local government in the town Södertälje decided either to fire or relocate a history teacher at the local high school. Mayor Anders Lago declared that it was not a question of free speech, but a question of teacher Jonas Linderholm's abilities as a teacher. Mr Linderholm wrote an essay (during his vacation) on what happened during WWI with the assyrian/syriani people, a Christian people living close to the border between Turkey and Syria. Mr Linderholm claimed that the number of killed was not the half million that the assyrians/syriani claim themselves, but "only" 55.000 (which was a fourth of the population at the time according to Mr Linderholm). Today the world's largest concentration of assyrians/syriani is in Södertälje, where they have their own bishop and a football team playing in the second division of the National Swedish Soccer League. Mr Linderholm's essay offended the assyrians/syriani in Södertälje and they demanded that he should be fired. Not for his teaching (which was impeccable ­ details on what happened with small minorities in the Middle East is not included in the curriculum), but for the very fact that he had written the essay. Threatened with court proceedings the local government backed down, but forced Mr Linderholm to apologize his wrongful witings to students of an assyrian/syriani background. Mr Linderholm has not yet agreed to that.
Crook 1758 Nilsson fighting and joking with government
Many have seen him walk in the streets with his striped clothes and the large "1758" on his chest. He also have a symbolical chain around his waist. His name is Per-Olof Nilsson and he used to be a carpenter before the government arranged his reeducation into a full time criticist of the present society. As a memory of the government efforts in his education he keeps the "1758", the number he had when prisoned for a total of 87 days without any charges made, according to a seldom used tax law. Mr Nilsson ceased carpenting 20 years ago and have since then been a full-time political activist.
Unemployed asked to work less
An unemployed woman that was offered a new job was threatened by her government financed unemployment insurance coop that they would ask her to pay the money back for the time she had already got insurance benefits. They preferred having her get more unemployment benefits rather than accepting an employment with a well-renowned company offering clerks for hire. Another woman was given the choice between taking 75 per cent unemployment benefits and no work or keep her 25 per cent employment and get no benefits at all.
People who ruined Sweden
Carl-Henrik ("CH") Hermansson was chairman of the Swedish Communist Party 1964­75. After his stalinist predecessort Hilding Hagberg he seemed to be a moderate euro-communist. But below the surface there was a true communist and supporter of dictatorship.
When Olof Palme paid his tribute to a convicted murderer
The Educational Association of the Swedish Labour Movement earlier this year arranged manifestations in the northern towns of Umeå, Skellefteå and Lycksele agaiunst "violence and xenophobia in memory of Olof Palme" [the late Swedish Prime Minister]. Karl-Göran Bottwyk wants to protest the use of Olof Palme in such a manifestation as Palme once paid his trbutes to the convicted murderer Anton Nilsson at his 90th birthday. Nilsson killed a young British worker, Walter Close from Hull, who worked during a strike against the port of Malmö in southern Sweden. Nilsson was sentenced to death after he had thrown a bomb into the ship where Mr Close and other workers lived, but later he was pardoned, after having served only nine years in prison.
Fifty years since the Koreean War
The Korean War started June 25th 1950. The Korean War is of central improtance for understanding the development of the Cold War.
Serfdom and Communism
The third and concluding part of Contra contributor Marek Zyto's article on his trip to the Kuban plains in Russia. Mr Zyto, a Polish Jew, fled his native Poland during WWII and learned ­ the hard way ­ the realities of Communism. After having lived in Sweden during most of his life he was able to return to Kuban after more than fifty years.
Al Shapton – merchant of violence
Al Shapton is a prophet of violence, playing an important role in the presidential campaign of the Democratic Party.
Contra's political platform
Contra is not a political movement in the sense that we have a political program. Contra is, however, a forum for exchange of ideas promoting freedom and democratic values. The Board of Directors of Contra have concluded that there is a need for a platform on the basic values forming the foundation of Contra's publishing activities. After discussions for more than a year, this platform now has been adopted.