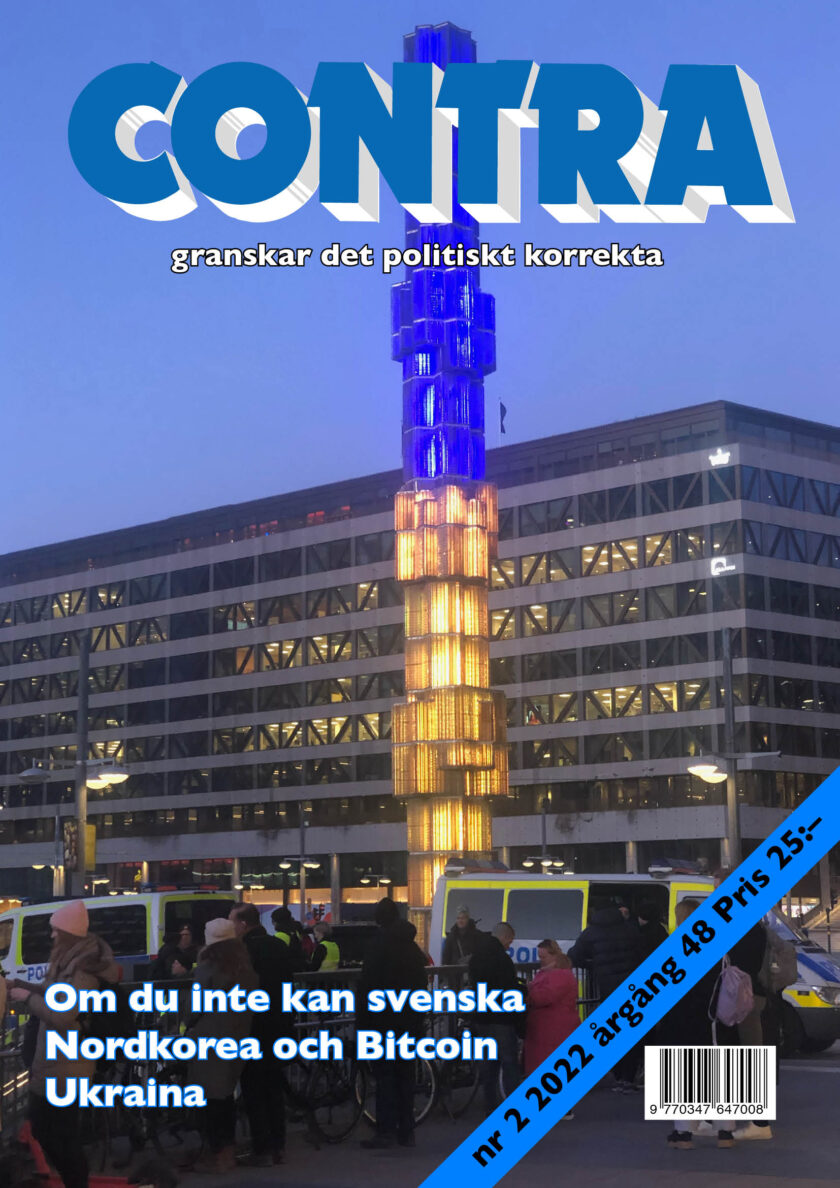 Leader: Swedish government wants to ban prospecting for and production of coal, oil and gas
The day after Vladimir Putin's invasion of Ukraine the Swedish government presented a proposal to ban prospecting for and production of coal, oil and gas. A dream for the Greens, a party that has already left the government and a dream for Vladimir Putin. A similar ban already exists for uranium ore and thus Sweden imports Russian uranium ore for its nuclear power plants in spite of the fact that Sweden has rich domestic uranium resources.
North Korea and Bitcoin
North Korea invests heavily in hackers in order to steal Bitcoin to finance its nuclear weapon and missile programs. The hacker group Lazarus is very succesful according to Western security experts.
If you don't speak Swedish…
Swedish taxpayers pays millions every year for translating documents into foreign languages. Even if you have lived in Sweden for fifty years you are entitled to a free interpreter in many cases. And there are five "domestic minorities" where a lot of documents must be translated at taxpayers expense. The sami people (some 15,000) speak Swedish at national conferences as their three different sami languages are not understandable to each other. One of them Southern Sami is spoken by approximately fortty people, but still a lot of documents are translated into Southern Sami. Another language costing a lot is yiddish with a single person known as translator between Swedish and yiddish. Approximately 1,000 people speak yiddish in Sweden, all of them elderly and all of them speaking better Swedish than yiddish.
High or low temperature, both explained by "global warming".
As are droughts and floods…
Who is Vladimir Vladmirovich Putin?
Tommy Hansson has read a praised book on Vladimir Putin and his friends. People we should know more about in today's international crisis.
Ukraine
Ukraine has had close ties to Sweden for a thousand years. Contra gives a background.
NATO – the world's biggest peace movement
NATO was formed by 12 countries in 1949. All these have have been in peace since the forming of NATO. Something that is unique in Europan history. But while NATO has formed a harmonious Europe the Soviet Union and later Russia has repeatably waged war.
Belarusians in Sweden    
Contra has talked to Dmitri Vasserman, representing the Belarusian People's Embassy, sixteen of them listed at belarusabroad.org. The purpose of The People's Embassies is to forward cultural exchange.
Bertil Wedin dead
Contra contributor Bertil Wedin has passed away in a heart attack. He was 81 years old.
"Progressive" politcians are a threat when crime increases and schools are politicized
Across the US crime increases. But "progressive" politicians want to defund the police. And in schools politicians want to change names of schools like Abraham Lincoln high school instead of opening tuition again after having closed for the pandemic