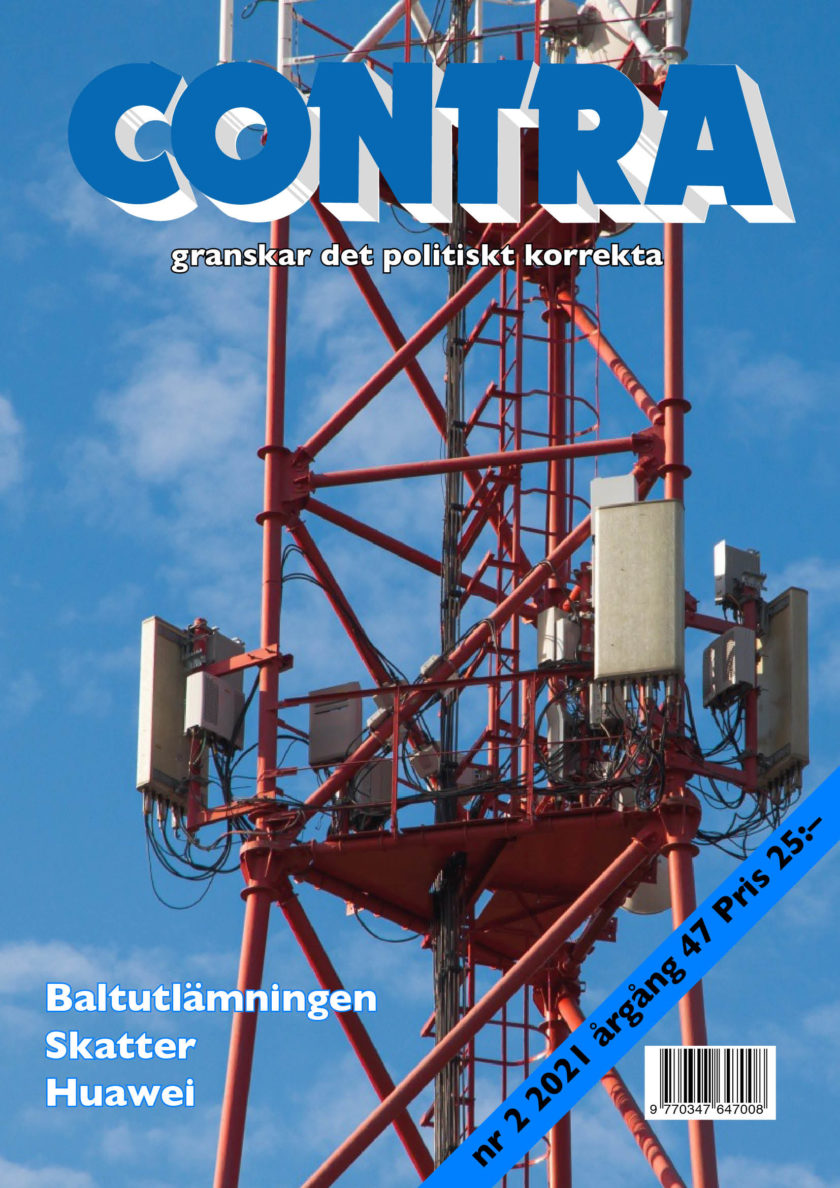 Leader: Government owned enterprises
Ministers might brag about the number of chairwomen in government-owned enterprises (a majority), but they don't brag about the performance of the companies. Major government owned enterprises reported 602 billion kronor (50 billion US dollars) lower profits than corresponding companies listed on the Stockholm stock exchange for the past ten years.
C G Holm: The threat from Huawei
Three companies offer a full range of 5G products for telecom operators: Ericsson, Nokia and Huawei. But the company Huawei and all its Chinese employees are obliged to follow section 7 in the Chinese law on intelligence, including that all companies and citizens are obliged to support, follow and cooperate with Chinese government intelligence entities. 
Tommy Hansson: Hate speech law is a threat to the free word
The Swedish law on hate speech was adopted in 1948 and mainly created in order to counter a very active anti-semite called Einar Åberg. Åberg served a couple of prison terms and died in 1970, but the law has been enlarged and become more porous in its regulations. Now, with a lot of rather unspecified definitions of hate speech, the law is a threat to free speech.
C G Holm: Taxes and more taxes…
The article gives a background to Swedish taxation, having evolved from taxing land and people (individuals were hit by a fixed rate per person) to income tax, payroll taxes and value added tax. In the meantime there have been taxes on whigs, perfume, the right to drink coffee, the number of windows in your home and if you had wallpaper of silk.
More taxes threatening
A not very much observed government white book on "equality" suggests the reintroduction a large number of abolished taxes, like inheritance tax, wealth tax and property tax and the abolishment of important tax decutions.
Géza Molnár: The US presidential elections
There are no hard evidence for large "steals" of votes in the election. But there are many indications of anomalities, like counties having voted for the winning president since the 19th century, for the first time not doing so in 2020.
Per Ossmer: 75 years since the expulsion of the Balts
In January 1946 the Swedish government expelled 146 refugees from the Baltic countries (most of them from Latvia) to the Soviet Union, where they never had been citizens. Seven were shot and at least 41 were put into the Gulag camps.
Allan C. Brownfeld: Wherever did the colour blind society disappear?
A few decades ago the civil rights movement fought for a colour blind society. Not so any more. Race seem to become the basis of the modern American society.
Victims of slander
In Sweden a conflict rages between the young leader of the Christian Democratic Party, Ebba Busch, and an old man, Esbjörn Bolin who have sold an uninhabited house to her. Mr Bolin has signed the contract, witnesses have counter-signed the contract, the value has been set by in independent auditor, but Mr Bolin now has changed his mind. Which he did after hearing from a likely heir and that Ms Busch wanted to cut down a few trees on the site. The old man's story has fuelled a campaign against Ms Busch, who is leader of the likely minor coalition partner in a possible centre-right government after the next election.
Book reviews:
Thérèse Juel: Convicted. On misjudgements in the Swedish courts.
Karl-Olov Arnstberg: The tyranny of benevolence