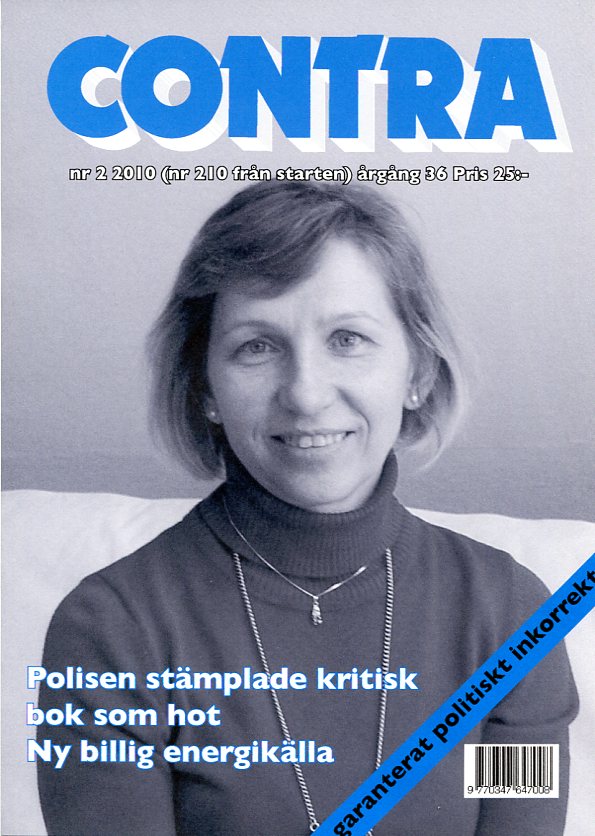 Vera Efron was regarded as a threat to security – she wrote a book
Vera Efron interviewed by C G Holm
According to the 2007 "national security threat report" of the Swedish Criminal Police Vera Efron and her twin sister Lena (Vera is on the cover of this issue of Contra) were regarded as threats to society. The police wrote: "The three different types of interference, threat/violence, blackmail and bribes are linked together and are often coordinated. Threat of violence is often a method for influencing the outcome of a decisison. Often it is a question of hidden threats. An example is a book written by the two Russian sisters Vera and Lena Efron on their contacts with the tax authorities, in which a civil servant handling their matter is mentioned with his name". The reason behind the mentioning of the Efron sisters was explained by the book they had wrotten (they hadn't, Vera was the sole author) and that the sisters had talked Russian with each other when they visited the tax authorities.
The report included only three names. In addition to the Efron sisters a man who publicly explained why he shot another person to death in the underground.
Now the police have paid libel damages to the sisters. Vera explains what she sees as a system reminding her of the KGB of her homeland.
Note: Vera Efron has a PH D in geology. Her great grandfather was publisher, most well-known for the 82 volume Brockhaus and Efron Encyclopedic Dictionary.
The Maldives are doing just fine –
the sea level is declining
Nils-Axel Mörner at the University of Stockholm has visited the Maldives several times and studied the islands. When he talked with fishermen he realized that the sea level dropped by 20 centimeters in 1970, and since then nothing has happened. The decline of the sea level was noticed at harbours and fishing reefs. The geologist Mörner made field studies in lagoons, drilled onshore and in lakes and studied the shoreline. By now thirty year of scientific measuring is avaialble. The conclusion is clear: The sea level has dropped, not increased. When Mörner participated in a TV documentary and told about his findings, the film was banned by the Maldivian government. It was a threat to the national interest of the country, getting more foreign aid.
New cheaper energy!
by C G Holm
Shale gas is the new hot source of energy. It has already turned the American gas market upside down, reminals built for billions of dollars to import liquid natural gas (LNG) are now rebuilt for exporting LNG! Gas prices have dropped by 60 per cent during the past couple of years. Now the technology is coming to Europe. Shell is drilling in Scania province in southern Sweden.
New "czars" concentrate power to the president
by Tommy Hansson
If you claim that US president Barack Obama is a socialist, you meet critical views, in spite of his past as a community organizer with a socialist agenda and membership in socialist organizations. Add his friendship with communists like William "Bill" Ayers, a professor who once was a member of the terrorist group Weathermen.
Then. Have a look at his "czars", persons given executive power outside Congressional control, and it turns really scary.
North Korea might collapse
North Korea is mostly discussed concerning nuclear weapons and the starvation that is harassing the people of the closed country. It is also known that there are concentration camps with hundreds of thousands prisoners. But now one more thing must be added: The regime in Pyongyang might collapse at any time.
Agnew – the eloquent vice president who was forced to resign
by Tommy Hansson
In April 1973 35 per cent of Republicans wanted vice president Spiro Agnew to succeed president Nixon. More than those who rather saw California governor Ronald Reagan as Republican candidate for president. Half a year later Agnew had resigned as a consequence of accusations of courruption and tax fraud. If Agnew hadn't been forced to resign he and not Gerald Ford had become president when Nixon later resigned in 1974.
"Paradise" is tempting suicide bombers to committ their crimes
by C G Holm
Interrogations with unsuccesful suicide bombers show that this type of crime often is committed by teenage boys who are tempted with promises of sexual pleasures in "Paradise". The method is not new. Already Mohammad himself was tempting his soldiers with "Paradise", 1,400 years ago.
Economic free zones increase integration
by Fredrik Runebert
Economic free zones may create new opportunities for suburbs lost in problems. The method is allowing local governments to organize tax free or low tax zones, including VAT, payroll taxes and income taxes, in limited areas with problems of unemployment. The economist Per Skedinger have made a summarized presentation of hundreds of research reports on the effects of labour legislation on youth unemployment and integration. He shows that marginal groups are the ones most likely to benefit from such measures. To decrease taxes in the entire country might be harder tha getting approval for local measures.
The Wild Left
A deputy mayor was accused of instigation to attempted murder, but she has continued to be a close friend and lover of one of those sentenced for the main crime to prison. In spite of the fact that that very man has battered her. She even refused to tell the police where the man was when they searched him for handing over the subpoena for an assault charge raised against him (he spent much time boozing in her flat). "I do not participate in police work" the deputy mayor said to the press. Now she's once again the top candidate of her Leftist party (reformed Communist) for the coming elections in September.
Russians in Latvia provoke
by Frank Gordons
In the journal Briva Latvija Frank Gordons write columns on the political development. Occasionally Contra publishes Swedish translations, this time on the provocations of Russians against Latvia.