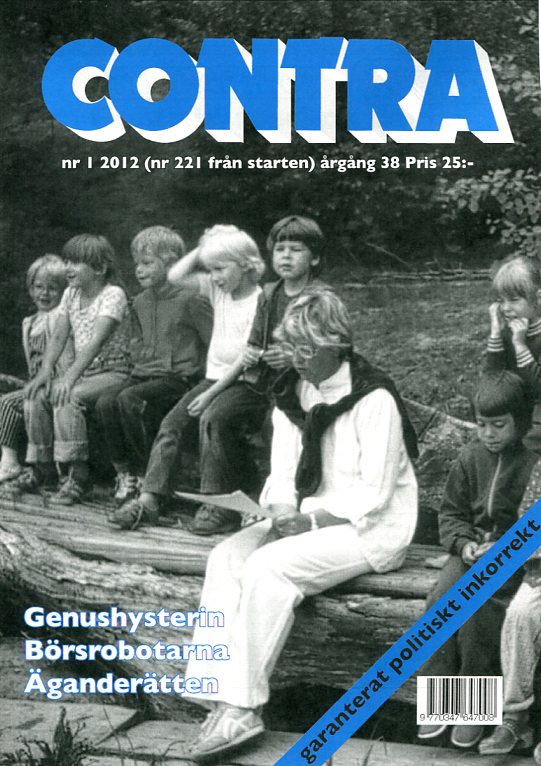 Gender hysteria at nursery schools
by Sven Enberg
The Swedish government every year invests large sums in "gender science". Those who have seen the products of this "science" at the universities immediately realizes that it is no science at all. But now "gender science" is supposed to be the foundation of the way you run nursery schools in Sweden. "Gender educationists", compulsory in nursery schools, will ruin our children.
High frequency trading and the financial crisis
by Roger Klang
"Black boxes" or high frequency trading change the very foundation of equity investments. Roger Klang discusses the risks when robots take control and run the exchanges based on trade patterns rather than fundamental values of stock in well-analyzed companies.
Church of Sweden limits free discussion
by C G Holm
Helena Edlund a prison priest in the city of Malmö has advocated views that are not exactly loved by the leaders of the Church of Sweden (the Swedish Lutheran church, until ten years ago an integrated part of the Swedish government). Rev Edlund writes in "Kyrkans Tidning": "In many cases, if listening to the public statements by the Church of Sweden, it is worse to critize islam than to criticize Christian beliefs". Edlund means that it is a threat to christianity if the core beliefs of non-christians are are accepted in spite of the fact that they are diametrically opposed to the Christian gospel. Instead of taking an open discussion leftist and politically correct priests have reported Rev Edlund to the Cathedral Chapter to get her views ostracized. The article gives several similar examples.
Weakening of the institution of private ownership by Mats Jangdal
The centre-right government of Sweden has missed to check one important aspect of freedom and democracy, the institution of private ownership. The government has concentrated on cutting back government expenditure on welfare, taxes and changed incentives for unemployed to go back to work. But they have not said very much on the institution of ownership which is regulated both in the Constitution and in law. Government agencies use the lack of clear words in order to cut back on the contents of private ownership.
Kalju Mätik tells us about his work for the underground opposition in Estonia
Kalju Mätik was born September 16 1932. He participated in the activities of the Estonian underground opposition like the Estonian National Front and the Estonian Democratic Movement. He was one of the co-founders of the Estonian National Independence Party 1988 and he was a prisoner in the Gulag between 1974 and 1980.
The Museum of Occupation in Tallinn
by Ann-Mari Lahti
In Central Tallinn there is a museum of occupation, where the Communist and National Socialist occupations of Estonia are explained.
Home Secretary denies access to Swedish Stasi files
During the past autumn there have been recurrent demands for a release of 57 names on the Swedish Stasi file (Swedish citizens regarded as recruited by the Stasi). Members from six of the eight parties in the Swedish parliament agreed to demand a release, including MPs from all the four parties in the present coalition government. Home Secretary Beatrice Ask however reached an informal agreement covering all eight parties in Parliament that no names should be released. Contra at present has access to six of the 57 names.
Wilhelm Röpke – social security in a changing world by Fredrik Runebert
Wilhelm Röpke was a leading free market economist – and a member of the Mont Pelerin Society – but he turned into more conservative ideas on social security within the framework of the market economy.
New problems for wind power
Authorities plan for energy supply with 10 per cent delivered by wind power. To achieve this vast windmill parks will be built, which is possible only with the help of subsidies. The system is clever, as there are no subsidies coming from the taxpayers, subsidies come from "certificates" which producers of hydropower and nuclear power have to purchase and which are forwarded free to those who supply wind power. With this method the Parliament does not need to make any formal decisions on subsidies or on government expenditure, because there are no government expenditures to cover the subsidies.
Anna Politkovskaya said no – which cost her her life by Maria Walden
Anna Politkovskaya (1958–2006) was a iournalist at the critical Novaja gazeta newspaper. She was born in New York, as daughter of Soviet diplomats. After her death rallies and protests have taken place to honour her memory. She has turned into a symbol of free speech. Anna Politkovskya was the only journalist daring to tell what really happened in Chechnya, based on more than 40 trips to the area. She was murdered outside her flat in Moscow October 7 2006.