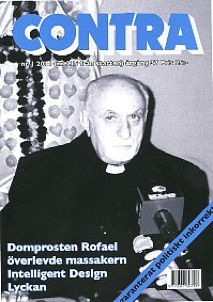 The struggle for happiness
by Fredrik Runebert
Happiness research is a coming subject. Politicians are adapting research findings in order to develop a society to maximize the happiness of citizens. But the findings of existing research contravenes the general ambitions of politicians. Happiness is not a codition, but a way of life. Freedom and responsibility are the basics for happiness. When the government denies man to lead his own life, to make his own decisions and his own mistakes, man is denied the tools to create real happiness. Man should have a goal and know what he is striving for. The road towards the goal must have some obstacles, although not insurmountable obstacles.
Father Rofael survived the massacre in Baghdad: Four hours of violence and terror
by Tommy Hansson
October 31 2010 the world was shook by a terror attack on the Syrian-Chaldean Cathedral in Baghdad in which 70 people were killed and many more were injured. The abominable attack was performed by jihadist members of the "Islamic State of Iraq". Two of the three priests officiating at the service that was in progress were killed. The third, the dean Rofael Kutaimy, survived. In the beginning of December he turned up in Södertälje, Sweden, where he was visiting a relative and stayed in order to recover after the injuries he suffered.
Still Marxist gods are worshipped: How I experienced The Communist Party of Sweden
by Ann-Mari Lahti
For many years the author of the article was a member of the Communist Party of Sweden. She left the party and now she tells about a party that runs operations and advocates views that you hardly could believe that they exist today.
Wikileaks – a dangerous leftist movement
by C G Holm
Diplomacy is based on confidence and confidentiality. Everything said is not intended for the public, as little as are your small talk with your girl friend or your chats with your boss. Wikileaks take the responsibility for distributing secret diplomatic reports that correctly – or sometimes mistakenly – reports on what American diplomats have heard in confidence. The result of the Wikileaks dissemination of such reports is that there will be fewer confidential reports, less information available in advance of important decisions and thus lower quality of the decisions made. It should be added that front figures of Wikileaks in Sweden (as well as in Russia) are well-known anti-semites.
Intelligent design
by Janis Vikmanis and Bertil Hoffman
When the term "Intelligent design" is menioned many withdraws to the defense area of political correctness. Yes, we should believe in science and we should not let men from the dark ages come back and disagree with the scientist Darwin! But science is nothing but disagreement and questioning! In order to understand if Darwin's theories are correct or not, we must have a look at alternative ideas. Contra helps you to look at them!
European dictatorships: Azerbaijan
by C G Holm
Sometimes it is said that Belarus is the only remaining dictatorship in Europe. That is not true. In the Caucasus Ilham Aliyev have full control over a rich but oppressed country with 8 million inhabitants: Azebaijan. Ilham suceeded his father Heydar, who died in 2003. But still the father is the main figure. All over the country you meet statues and billboards depicting Heydar Aliyev and completed with some of his words of wisdom. Now and then you also see the son, but father beats son by 9–1. Which is approximately what you find in North Korea. C G Holm reports from a journey to the country.
The Balkanization of the Swedish Welfare State
by David Stavenheim
In a book called "The Balkanization of the Swedish Welfare State" authors Håkan Eriksson and Jacob Rennerfelt discuss the Ombudsman of Discrimnation, "genus based pedagogics" and other modern topics that divide the Swedish people into groups that compete against each other and where some groups are given priviliges over others.
From "duchegubka" to "Gaswagen"
by Frank Gordons
Recently the European Commission turned down a proposal from Latvia, Lithuania, Bulgaria, Czechia, Romania and Hungary, proposing that people denying the crimes of totalitarian regimes should be prosecuted and fined. Gordons discusses the similarities between the crimes of national socialism and communism.